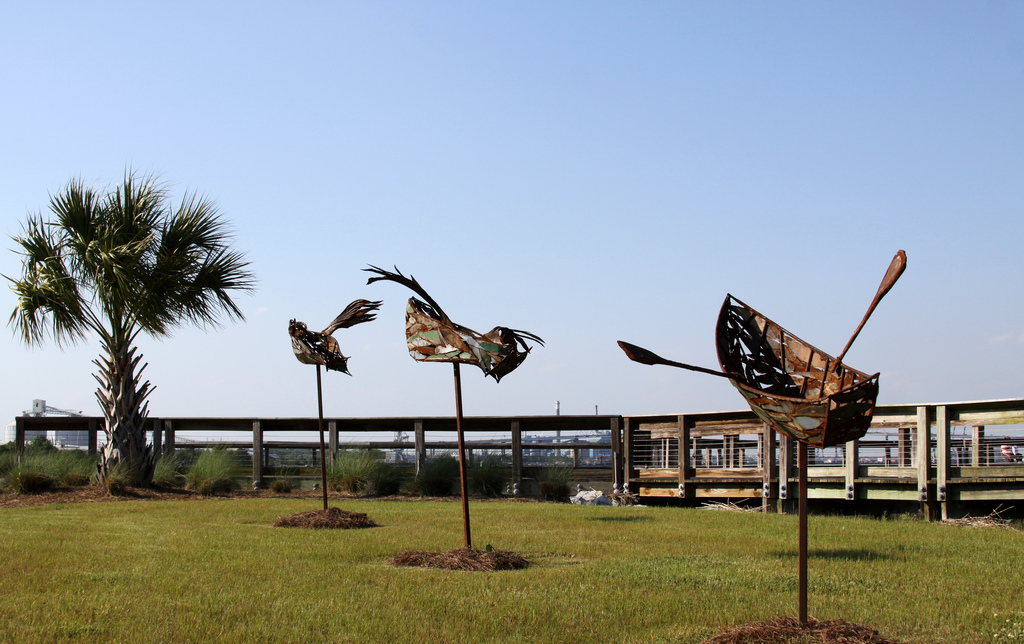 Competition & Exhibition Overview
Sculpture artists from across the nation are invited to participate in the 10th Annual National Outdoor Sculpture Competition and Exhibition. Up to 14 sculptures will be juried into the 11 month exhibit and will compete for cash prizes totaling up to $16,250. Accepted artists will receive a $1000 honorarium check to assist with transportation, installation, de-installation, and incidental expenses. Once all pieces are installed, the juror will award Best in Show, Outstanding Merit and Honorable Mentions.
Organized by the City of North Charleston Cultural Arts Department and presented as a component of the annual North Charleston Arts Festival, this unique exhibition has been recognized in local, regional, and national publications. Established and emerging artists are given the opportunity to display their inspiring and extraordinary sculptures throughout the picturesque North Charleston Riverfront Park, set along the banks of the Cooper River. An estimated 50,000 people visit this public park annually to enjoy the amenities located in the heart of the city's arts community.
A $35 entry fee allows artists to submit up to four entries. The competition is open to US residents ages 18 and older.  Sculptures are categorized in two divisions:
Division I – Sculpture that can be secured to a concrete pad (sized 52″x49″, 65″x62″, 65″x102″, 74″x78″, 74″x96″), into ground, or other pre-approved anchor method
Division II – Sculpture that can be secured on a 2'w x 3'h concrete pedestal
About the Juror 
We are pleased to announce the Juror for this exhibition is Jeffrey York, Public and Cultural Arts Administrator for the Town of Chapel Hill, NC, will jury this year's exhibit.   York heads the Cultural Arts Division of the Parks & Recreation Department where he oversees the Town's Percent for Art Program.  In addition, he administers the Artist-in-Residence, Community Arts, Downtown Arts, temporary gallery exhibition, and yearly outdoor sculpture exhibition programs, as well as community festivals. Formerly, York was the Director of Public Art & Community Design for the North Carolina Arts Council where he assisted communities with public art planning/implementation and cultural facility design through an annual grants program he developed.  He has been an advisor to the Art-in-Transit Program of the Charlotte Area Transit System and the City of Raleigh Arts Commission.  Prior to his involvement with public art, Jeffrey spent 18 years as an art museum educator, curator, and director.  He has been a selection committee member or juror for dozens of public art projects, gallery exhibitions, and arts festivals throughout the south.
The deadline for submission of entries is Wednesday, February 25, 2015. Please note that our application process has moved to an online platform (SlideRoom).
The 2015/16 National Outdoor Sculpture Competition & Exhibition application may be accessed by clicking on the "APPLY NOW" button below, or by visiting the Exhibition's page at NorthCharlestonArtsFest.com.